accessible hotel rooms in Wenatchee
No matter the purpose of your visit, feeling comfortable in your room and having the right surroundings to relax & reload is what we strive to provide our guest. From the moment you arrive you will notice that the Wenatchee Centre is in the perfect location to explore all that Wenatchee has to offer. We know traveling can be taxing and our goal is to make certain that you are making the right choice when booking a hotel.
when you arrive
We have eight accessible parking spaces for our guests. Four are located at our front entrance and four at our back lot entrance; making it easier for you to come-and-go.
our building
Both of our entrances (front and back) are fully accessible. Our front entrance has 72" of clearance space and doors that automatically open. Our back entrance has an access ramp leading up to it and the door is easily opened with one hand. It has 48" of clearance space to pass through.
There is direct access to our main lobby and front desk services through either entrance. Our friendly front desk ambassadors will waiting there ready to check you in. Our service devices such as the payment terminals are portable to increase the ease of service for our wheelchair guests.
The main lobby has accessible public restrooms for your convenience.
Our guest elevators have a total space measurement of 48" by 68" with plenty of space inside once the doors are closed. The buttons are conveniently lower with the top button no higher than 54″ off the elevator floor.
Our pool has a lift guests may use to access the pool. It also has poolside handrails on the stairs to assist guests with entering/exiting the pool. The pool changing rooms are fully accessible.
our accessible guest rooms
The guest room doors have been modified to easily open using just one hand. They also close slowly behind you allowing for any extra time needed to enter the room. Our doors swing a full 90 degrees inwards and have 32" clearance space to pass through.
The furniture in the room is set to the side allowing you to access to the middle of the room and the windows to open and close the shades. Our beds are no higher than 27" off the floor and have 26" of clearance space between the bed and the nearest wall. We have a bedside table that includes a lamp that features an on and off switch on the base of the unit and a power outlet on the bedside table for our guest to charge a portable device such as a mobile phone.
Other ADA amenities include:
low mirror
lower peep hole
lower closet rods
access to heating controls
a work desk that is 30" above the floor
ADA assistance kits including fire safety kits that flash with audible signals
carpeted rooms
our accessible in-suite restroom
We thought about maneuvering clearance when we designed our restrooms. There is more than 35" of clearance space to enter the restroom with plenty of maneuvering space beside the toilet and nearest obstacle.
The sink and vanity are no more than 34" off the floor and our faucets can be turned off and on without the need to use a tight grasp or twist. We have placed our restroom amenities lower; so, the hair dryer, extra towels and towel racks are assessable for our wheelchair guests.
Our toilet sits no higher than 19" off the floor. We have mounted a grab bar on the wall beside the toilet and another grab bar mounted to the rear wall.
One of our accessible restrooms come equipped a standard tub with a removable accessible bench which stretches outside of the tub. Our other room has a roll-in shower with a built in bench. In both rooms the lower docking station and the water nozzles are in reach and accessible when using the bench. Our restrooms have a vertical grab bar next to the shower controls and a horizontal grab bar along the side wall.
accessible guest rooms
Our hotel offers two accessible room types. Our accessible room offers all of the same amenities with in-room features built to accommodate individuals with limited mobility. For a complete overview, visit our Accessible Standard Room Queen room page.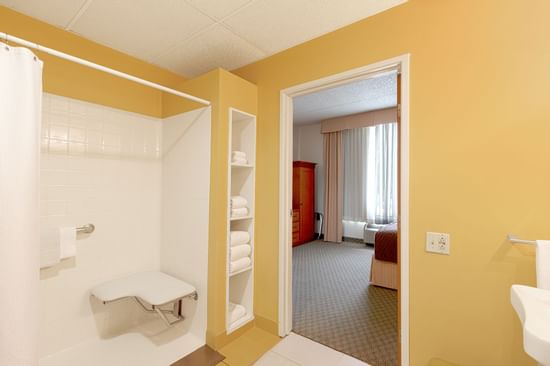 coast accessible queen
with roll in shower
Designed with your comfort in mind, this Coast Queen room is accessible. It features one triple-sheeted queen bed, a a roll-in shower with built-in shower bench, vertical grab bar beside and behind the toilet as well as a handheld shower head, work desk and mini fridge.