Pet friendly hotel near Edmonton Airport
We have a soft spot for your furry friends
At Coast Niksu Inn & Conference Centre at Edmonton International Airport, we treat our four-legged guests with the same friendly service we provide all those staying at our hotel. Our Nisku location within Leduc County, is just minutes from Edmonton International Airport (YEG), Premium Outlet Collection shopping centre, and many pet friendly parks.
We want to ensure that all guests staying with us get to enjoy the quality of service that Coast Nisku Inn & Conference Centre is known for. That is why we ask our guests who are traveling with their furry family members to sign a pet policy agreement at check-in and allow a maximum of two pets per guestroom. Pets are allowed in the lobby, provided they are on a leash or in a carrier. All other public areas within the hotel are not pet friendly.
There is a pet fee of $20 per day, per room and we also welcome cats and birds! Please ensure your animal is pre-approved by hotel management so we can prepare for your arrival.
Pet friendly Rooms minutes from YEG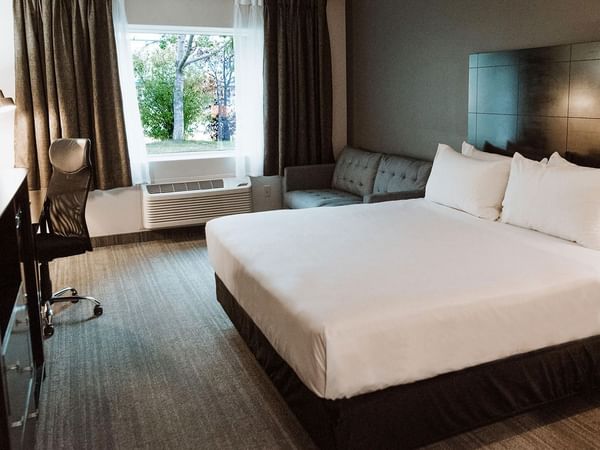 Coast King Pet Friendly
Bring your furry friend! This Coast King room is pet friendly and features a triple-sheeted king bed, a mini fridge, and work desk.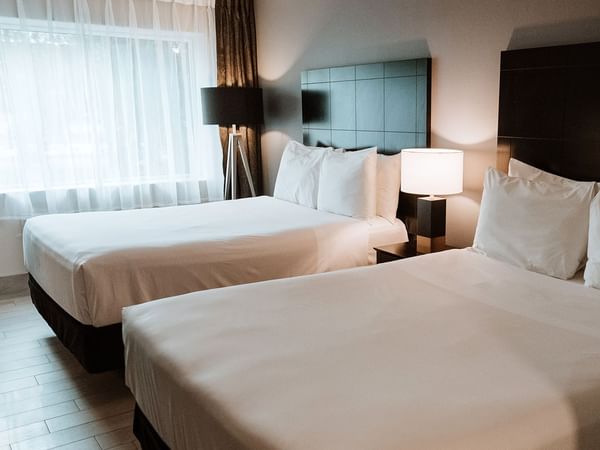 Coast Two Queens Pet Friendly
Bring your furry friend! This Coast Two Queens room is pet friendly and features two triple-sheeted queen beds, a mini fridge, work desk and breakfast.
pet friendly areas near edmonton airport
pet policy agreement
We understand that many responsible pet owners travel with their pets and may wish to have them share hotel accommodations as part of the family. To ensure a comfortable stay for all guests at Coast Nisku Inn & Conference Centre, please note the following pet etiquette for pet owners:
Pets may not be left unattended in a guestroom, or any other area of the hotel without the express knowledge & consent of the leadership team of the hotel.
Pet owners must remove their pet from the guestroom during housekeeping services; they may opt out of receiving housekeeping service while the pet is in the room.
Pets must be on leash, or in a carrier, at all times in public areas within the hotel.
Disturbances caused by pets, just as with human occupants of the guest room are the responsibility of the registered guest(s) and may result in additional fees if the situation escalates to that point.
Proper arrangements must be made to see to the basic necessities of the pet (feeding, grooming and exercise), for the duration of your stay.
Those left unattended, neglected, or causes disturbance in the hotel will be ordered removed, or removed by the hotel directly, at our discretion.
The registered guest assumes full responsibility for any damage, or additional cleaning required as a result of conduct of their pet. If a noise disturbance occurs and another guest asks for a rebate due to this disturbance, the pet owner is responsible for covering this rebate.
Adherence to these practices will ensure an enjoyable stay for all guests and pets.