Coast Hilltop Hotel accessible rooms in Pullman, WA
No matter the purpose of your visit, we strive to provide our guests with a comfortable room and the right surroundings to relax & reload. From the moment you arrive you will feel the warmth of our hometown hospitality. Mere minutes away from downtown Pullman, when staying with us you will have full access to all the amenities our city has to offer. We know traveling can be taxing and our goal is to make certain that you are making the right choice when booking a hotel.
when you arrive
We have five accessible parking spaces for our guests which are conveniently located close to our front entrance; making it easier for you to come-and-go. Our parking spaces are 9 feet wide with a 5-foot access aisle.
In the winter we regularly apply Ice Melt to our parking lot to keep all surfaces safe and slip resistant.
our building
Our front entrance is fully accessible and has 47" of clearance space to pass through. The doors automatically open to a full 90 degrees and are set to close slowly providing you with any extra time needed to get through. From our entrance there is direct access to our main lobby and front desk services. Our friendly front desk ambassadors will be waiting there ready to check you in. The front desk is set at a lower height so that our wheelchair guests can easily access it during check-in.
The main lobby has accessible public restrooms for your convenience. Our restaurant and banquet rooms are also fully accessible.
Our largest guest elevators has a total space measurement of 51" by 80" with plenty of space inside once the doors are closed. The buttons are conveniently lower with the top button no higher than 48″ off the elevator floor.
Our pool has steps with handrails to assist guests with entering/exiting the pool. The pool changing rooms are fully accessible.
our accessible guest rooms
The guest room doors have been modified to easily open using just one hand. They also close slowly behind you allowing for any extra time needed to enter the room. Our doors swing a full 90 degrees inwards and have 32" clearance space to pass through.
The furniture in the room is set to the side allowing you to access to the middle of the room and we also made it easy for you to access the windows to open and close the shades. Our beds are 24" off the floor and have 32" of clearance space between the bed and the nearest wall. We have a bedside table that includes a lamp that features an on/off switch on the base of the unit. There is a power outlet in the desk area close to the bed for our guest to charge a portable device such as a mobile phone.
other ADA amenities include:
low mirror
lower closet rods
access to heating controls
a work desk that is 34" above the floor
a fire alarm that flashes with audible signals
carpeted rooms
our accessible in-suite restroom
We thought about maneuvering clearance when we designed our restrooms. There is more than 34" of clearance space to enter the restroom with plenty of maneuvering space beside the toilet and nearest obstacle.
The sink and vanity are no more than 33" off the floor and our faucets can be turned off and on without the need to use a tight grasp or twist. Our toilet sits no higher than 19" off the floor. We have mounted a grab bar on the wall beside the toilet and another grab bar mounted to the rear wall.
Our ____ (find guest facing name for rm 140, 242, 342, AQQ2R) has a roll-in shower with a built in bench. (Find out what the other rooms have). All of our restrooms have a lower docking station with accessible controls. They have a vertical grab bar next to the entrance and another vertical grab bar mounted near the shower controls.
accessible guest room
Our hotel offers eight accessible room types in two different configurations. Our accessible room offers all of the same amenities with in-room features built to accommodate individuals with limited mobility. For a complete overview, visit our rooms section.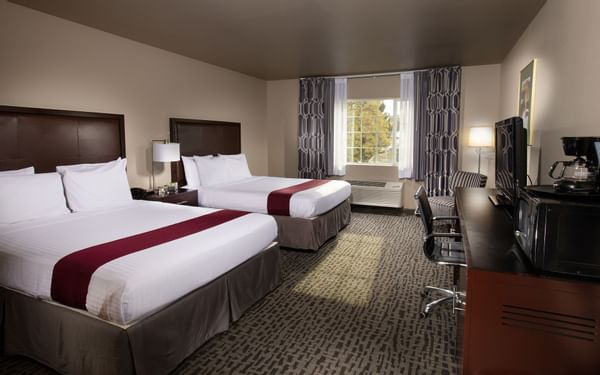 coast accessible two queens
This accessible room features great views and offers two queen beds and a shower (no tub) in the bathroom.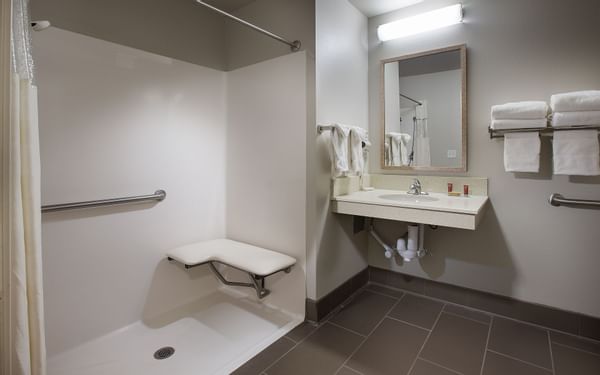 coast accessible two queens and roll in shower
Designed with your comfort in mind, or Coast Accessible Two Queens room comes with bathroom grab bars, roll-in shower, lowered mirror and closet rods and visual safety alarm.